We are thrilled to announce the collaboration between Swissgrid, Switzerland's electric transmission operator, and Gilytics, a pioneering Swiss software company. This dynamic partnership represents a significant step forward in redefining the landscape of transmission line routing methodologies for the future.
As a key player in the Swiss energy landscape, Swissgrid is dedicated to ensuring reliable, efficient, and sustainable energy transmission across the country. On the other hand, Gilytics, renowned for its cutting-edge spatial optimization solution Pathfinder, is committed to revolutionizing the way we approach transmission line projects.
Our Mission
At the heart of this collaboration is Gilytics' Pathfinder software – an industry-proven solution that empowers stakeholders to identify optimal corridors and routes for transmission line projects in short time. The mission is to integrate a tool box developed by Swissgrid called "Baukasten" into Pathfinder.
Building up on state-of-the-art algorithms and an intuitive user experience, the Pathfinder upgrade will integrate a spectrum of transmission line technologies derived from the Baukasten – from overhead lines to earth cables and tunnels. Tailored to specific locations, Pathfinder will autonomously suggest optimal technology-matched solutions, empowering the development of comprehensive routing approaches that effectively cater to a diverse range of stakeholder needs.
By incorporating comprehensive Key Performance Indicators (KPIs) from the Baukasten depending on the technology used, such as technical feasibility, costs, residential and spatial development, CO2 footprint, and environmental impact assessments, these routing solutions can be visually represented, quantified, and compared.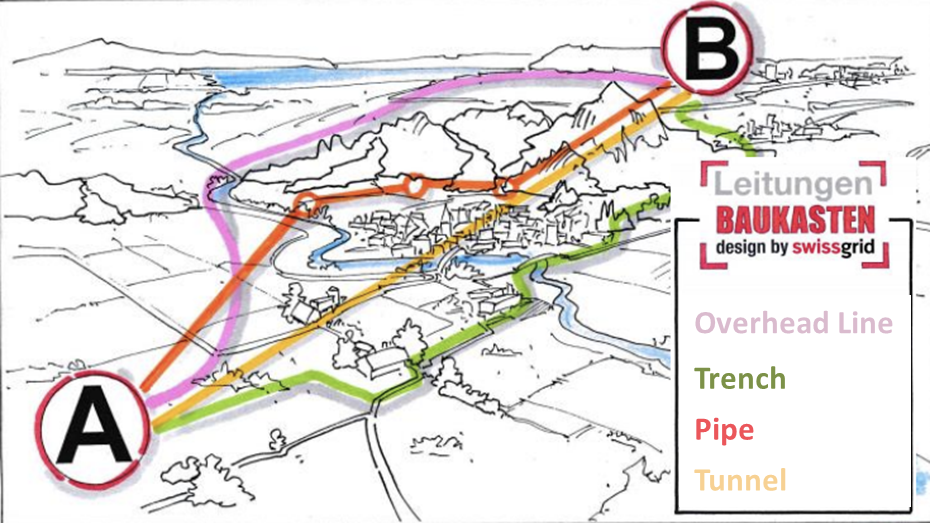 Key Benefits
Robert Benz, Grid Program Manager from Swissgrid emphasizes that Pathfinder will speed up decision-making for our powerline projects, allowing all stakeholders to make more informed and effective choices.
The following benefits underscore the significance of our collaboration and will also help other grid operators:
Accelerated early-stage option development: By swiftly identifying optimal routes and corridors, Pathfinder reduces the time spent on initial planning phases, enabling faster progress and early risk identification.
Optimization of transmission line technologies: Pathfinder's intuitive workflow incorporates various transmission line technologies, optimizing designs to meet diverse stakeholder requirements and project specifications.
Streamlined evaluation and selection: With Pathfinder's advanced algorithms, the evaluation, comparison, and selection of transmission line technologies become seamless, enhancing efficiency and speeding up decision-making.
Empowered decision-making: The comprehensive KPIs provided by Pathfinder, including technical feasibility, costs, environmental impact, and more, empower decision-makers with precise insights for well-informed choices.
Enhanced transparency and stakeholder engagement: Pathfinder's data-driven approach fosters transparency among stakeholders, promoting engagement and collaboration throughout the project lifecycle.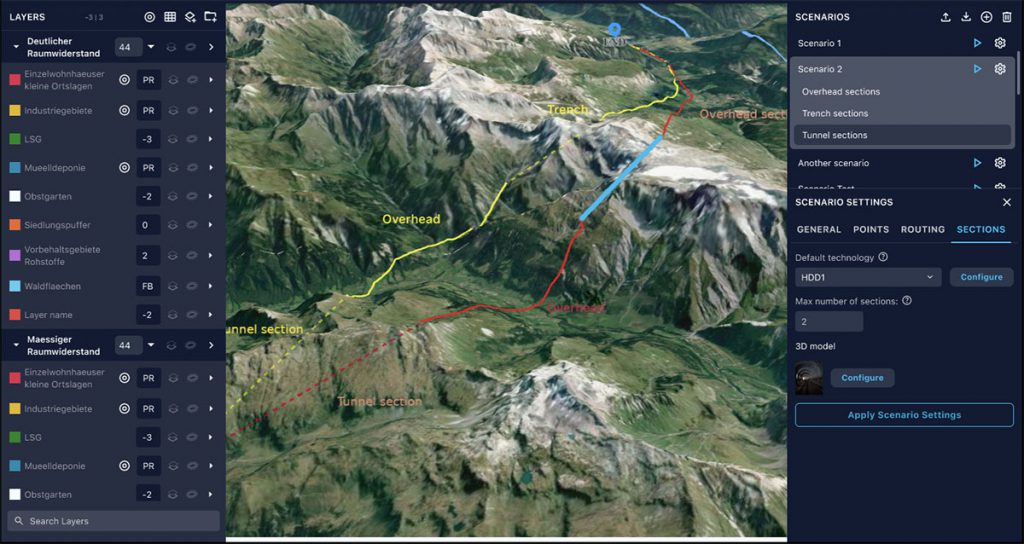 Together, we are forging a path towards a cleaner, more efficient, and sustainable energy future.