As part of ESRI Starupt program, Gilytics now offers a direct Add-in for Esri Arc GIS (Desktop and Pro). Esri product users can now directly benefit from the power of Pathfinder routing and siting algorithms while using familiar Arc GIS environment.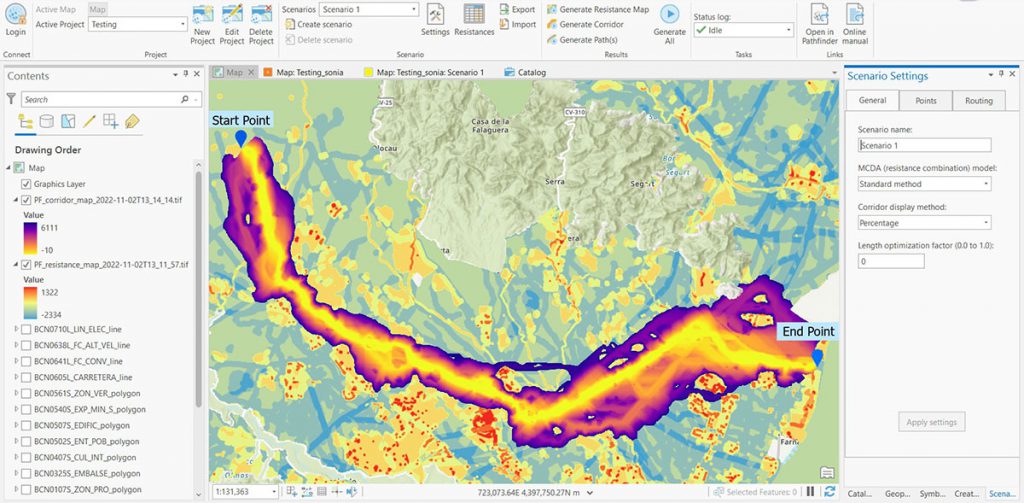 How it works
Use your Esri data to setup projects and scenarios. Easily apply planning rules and generate options which provide you with shortest route or environmentally best area to site your infrastructure. To do this you select layers (vector/raster) and define buffers and resistance values. Pathfinder algorithms generate land suitability (resistance) maps, corridors, and paths which you can analyze using your GIS data and ArcGIS geoprocesses. See a short video on youtube.
Use Cases
You can use the Esri Add-in for various applications like routing of linear infrastructure for overhead lines, earth cable, rail, streets etc. or you can find the best sites for substations, solar parks or other areas. Pathfinder offers you algorithms and parameters to optimize for different goals like residential impact, cost, environment etc. so you can quickly find an optimal solution for your project. You can read more here.
Benefits
The Pathfinder Esri Add-in delivers you the following benefits:
Save weeks to months of planning for routing and siting
Reduce your project planning costs by 30%
Have a well-structured repeatable process
How to test
Download the Add-in here. There is a version for Arc GIS Desktop and a version for Arc GIS Pro. Then you need a Pathfinder license to get full access, so get in contact with Gilytics Team so we can help you get started.